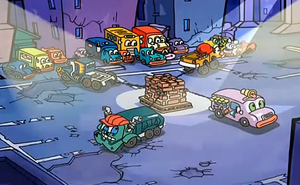 Trucks is a fictional movie that Francine and Muffy go to see in "The Agent of Change". The movie contains only a few females, and mostly males. It is comprised of characters who take the form of vehicles, mostly trucks. Its main plotline was said to be about a truck who follows his dreams. In the part shown in the episode, trucks are participating in the Ton of Bricks Bowl, which Johnny Half-ton wins, goes out with Cindy Cupholder and the end credits rolls.
Trivia
The film is a parody of the film Cars.

Johnny Half-ton is a parody of Lightning McQueen.
Rita is a parody of Sherriff.
Cindy Cupholder is a parody of Sally Carrera.
Smelly is a parody of Mater.

The film is mentioned in "D.W. Unties the Knot", where one of the Tibbles says that he didn't wear a suit when their grandmother took them to see Trucks The Musical.
The ending music was later used in What's in a Name?
Gallery
Ad blocker interference detected!
Wikia is a free-to-use site that makes money from advertising. We have a modified experience for viewers using ad blockers

Wikia is not accessible if you've made further modifications. Remove the custom ad blocker rule(s) and the page will load as expected.