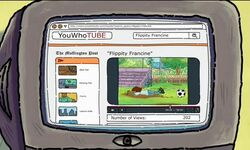 YouWhoTube is an online website that allows viewers to post and view video clips on the Internet.
History
Muffy Crosswire posted a viral video of Francine Frensky there, caught in an embarrassing moment. "Flippity Francine"
"Speak Up, Francine!," Muffy posted a PSA about pollution to raise awareness before Francine gave her speech. "Speak Up, Francine!"
Appearances
Arthur
Trivia
The site is a riff on the popular video sharing site YouTube.
Ad blocker interference detected!
Wikia is a free-to-use site that makes money from advertising. We have a modified experience for viewers using ad blockers

Wikia is not accessible if you've made further modifications. Remove the custom ad blocker rule(s) and the page will load as expected.