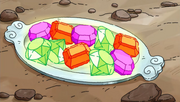 Ziloonian Crystals or Super Ziloonian Crystals are imaginary edible crystals. D.W., Bud, and Emily pretended that Brobots were trying to use Ziloonian Crystals to infect everyone on Earth with Arthuritis. When they are cleaned of Arthuritis, the Crystals look like cupcakes "Some Assembly Required"
Ad blocker interference detected!
Wikia is a free-to-use site that makes money from advertising. We have a modified experience for viewers using ad blockers

Wikia is not accessible if you've made further modifications. Remove the custom ad blocker rule(s) and the page will load as expected.